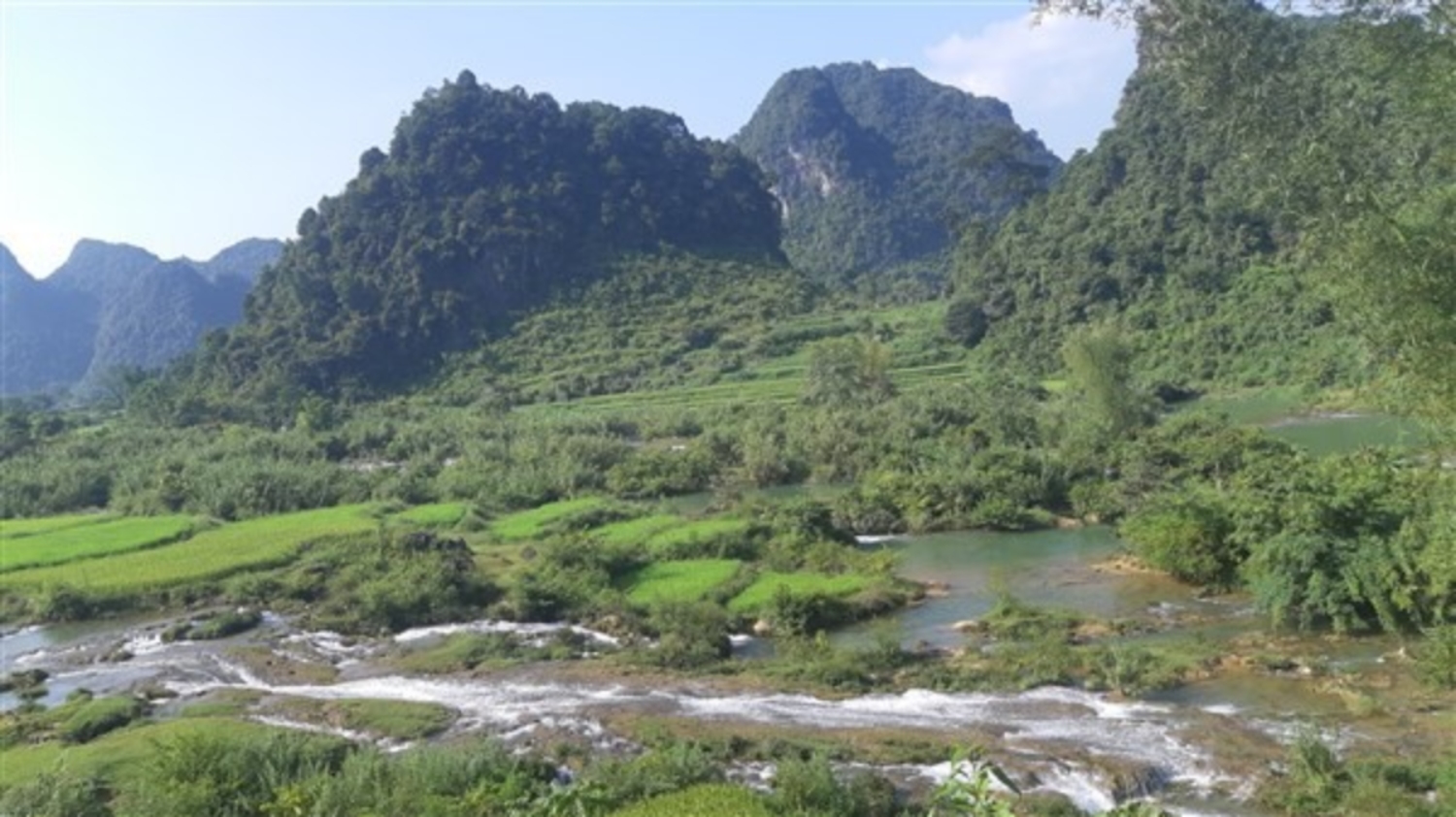 Non nuoc Cao Bang UGGp encompasses many significant geological, ecological heritage sites. It is also the land of valuable tangible and intangible heritage. The three experience routes designed to help visitors explore the geopark. Of the three experience routes, the eastern route "Experience traditional cultures in a wonderland" is the highlight with the most famous tourist destination-Ban Gioc waterfall. However, there are other fascinating sites for tourists to discover along this route, and Thong Tac waterfall ( in Trung Khanh district) is an express example.
The Bac Vong River area (Trung Khanh district) is well-known for beautiful natural landscape, of which Thoong Tac scenic waterfall is the highlight. From the intersection in Thong Hue Street, walking along the inter-communal road for about 3 kilometers towards the Bac Vong River, visitor will see Thoong Tac. The gentle blue river runs along a narrow valley. Crossing Thong Loc, Dong Tien hamlet, the river creates a floodplain where fertile rice fields and villages are formed.
The deep, clear river is over 50m wide, winding between two banks of reed beds and bamboo bushes. The green colour of iron sheets of new houses together with yin yang mossy roofed stilt houses on the background of green mountains and infinite blue sky create a peaceful picturesque countryside landscape.
Once it passes Thong Loc commune, the river divides into two branches. The left branch runs along the steep mountainside with a constant flow fragmenting the river into cascades. The right branch winds along a vast rice field, and the rocky bed of the river is straight like a hundred-meter glutter.
In the middle of the narrow floodplain, the locals grow crops. After 200m, the two branches rejoin. The upstream is wide and flat; at this locality, the river is obstructed by mountain ranges. The river seems to tumble suddenly creating several cascades about 10m high. Thousands of water blocks pour down Thoong Tac waterfall; one can still hear the waterfall echoing though standing a hundred meters away.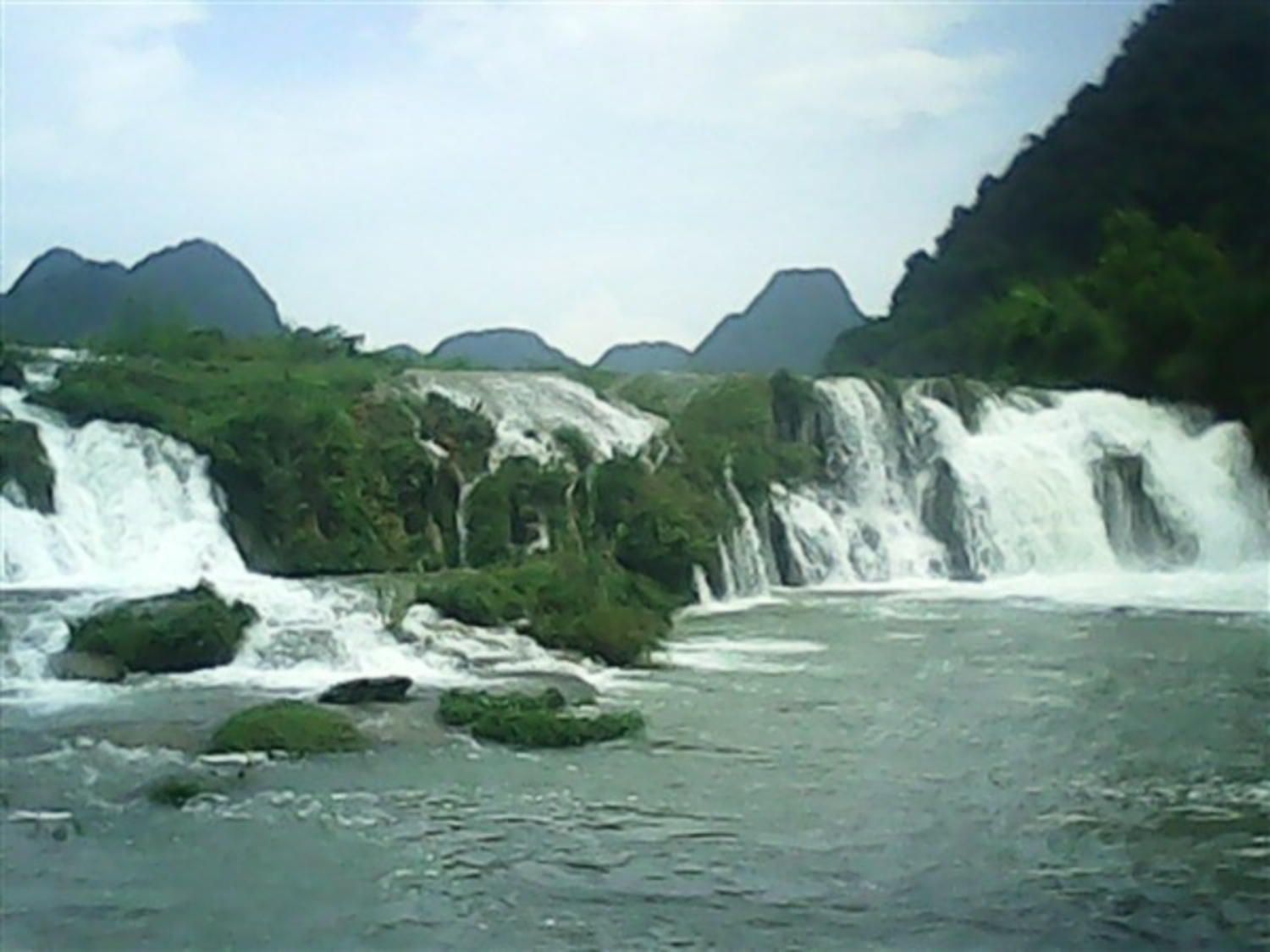 Thoong Tac is most beautiful at the end of summer and the beginning of autumn, when the upstream is clearest and bluest. The waterfall looks charming and powerful. In the midst of peaceful nature, savoring the majestic landscape of mountain ranges interleaving in golden rice fields makes one appreciate the colorful picture of the countryside.
Dong Tien hamlet was merged by Ban Mang and Thong Loc hamlets, with the 2 main ethnic groups the Tay and Nung. Majority of the local people are farmers specializing on farming and raising livestock; to date, some households have been developing aquaculture, generating stable income for their family.
Tourists who are fans of ecotourism can have an opportunity to explore the scenic landscape and experience the typical daily life of the local people when going to Thong Tac.