Enhancement of Promoting the image of Cao Bang tourism through networking activities and events of GGN
Friday - 23/08/2019 15:12
UNESCO Global Geoparks are single, unified geographical areas where sites and landscapes of international geological significance are managed with a holistic concept of protection, education, and sustainable development. Their bottom-up approach of combining conservation with sustainable development while involving local communities is becoming increasingly popular. A UNESCO global geopark. There are four fundamental features to a UNESCO Global Geopark. These features are an absolute prerequisite for an area to become a UNESCO Global Geopark. (1) Geological heritage of international value; (2) Management: UNESCO Global Geoparks are managed by a body having legal existence recognized under national legislation; (3) Visibility: UNESCO Global Geoparks promote sustainable local economic development mainly through geotourism; (4) Networking: participating, organizing UNESCO global geopark activities.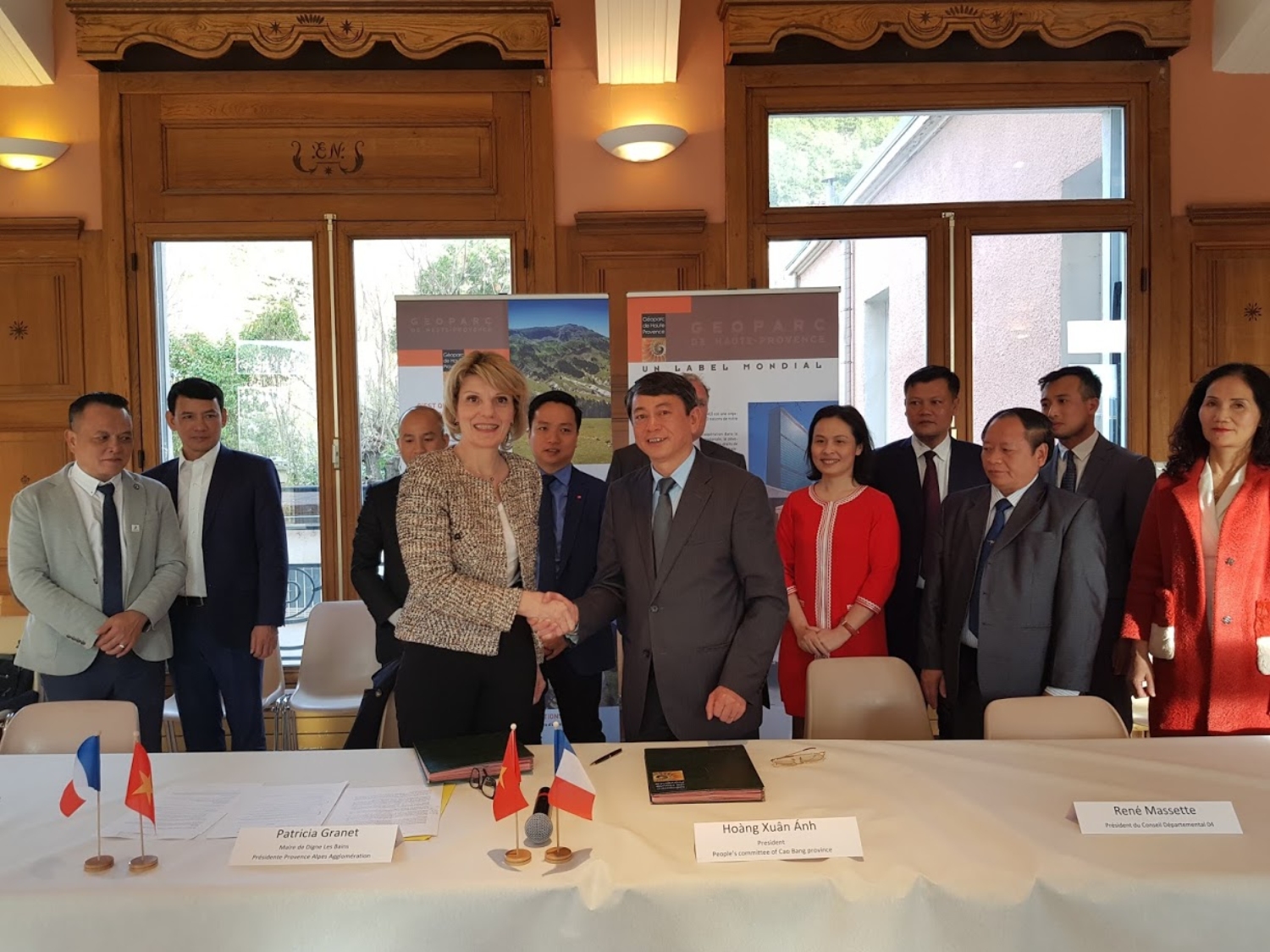 Non nuoc Cao Bang geopark was established on December 22nd 2015 and recognized as a UNESCO global geopark in April 2018. The development of Non nuoc Cao Bang geopark follows the guideline of the government, local authorities, especially the Program No10 of the Party committee of Cao Bang province on tourism development for period 2016-2020, as well as following all the criteria of the UNESCO for a UNESCO global geopark. Since Non nuoc Cao Bang was established, Non nuoc Cao Bang has actively carried out tasks on developing the geopark following the criteria of the UNSECO, particularly the criteria (4) Networking: participating, organizing UNESCO global geopark activities to enhance the widen international cooperation and promote images of Cao Bang in general and Non nuoc Cao Bang UGGp in particular.
The organization and participation at events of GGN does not only help Cao Bang promote its image but contribute to the effective implementation of the foreign cultural diplomacy of the Government "enhancing the foreign cultural diplomacy to help the world understand about the people and cultures of Viet Nam, build trusts with other countries to strengthen and stabilize the relation of Viet Nam with partners so that it can result in improved reputation of Viet Nam in the world and socio-economic development. Foreign cultural relation activities enable Viet Nam to learn from other countries so that we can diversify and deepen the traditional values of our country".
From 2018, the values of landscapes, bio-diversity, cultures, history, geology and people of Cao Bang province and Non nuoc Cao Bang in particular were introduced to the world through events of GGN and APGN. These are annual events which draw attention and participation of international Medias. At these even, the participation and chairmanship of sessions will help promote image of Non nuoc Cao Bang geopark and Cao Bang province to the world effectively.
One of the outstanding activities contributing to promote image of Cao Bang was the participation of Cao Bang province at the International Syposium of GGN in Italy in 2018. Party committee of Cao Bang province organized a delegation to participate at the 8th International symposium of GGN. There were about a thousand of representatives from UGGps, aspiring geoparks, scientists, universities, and research institudes all around the world joining the event. The delegation of Cao Bang province had two oral presentations, chaired one session and participated at the geofairs. Through these activities, images of Cao Bang and Non nuoc Cao Bang geopark have been known and shared by international communities.
In addition, the cooperation in the GGN through the exchanges of delegations, study tours among geoparks is one of other effective chanels to enhance bilateral cooperation for Cao Bang province with provinces of other countries, so that the images will be promoted effectively and drawing attention from potential tourists as well as investors to Cao Bang province. In 2018, Cao Bang established the cooperation between Non nuoc Cao Bang UGGp and Haunte Provence UGGp of Haunte provence, France.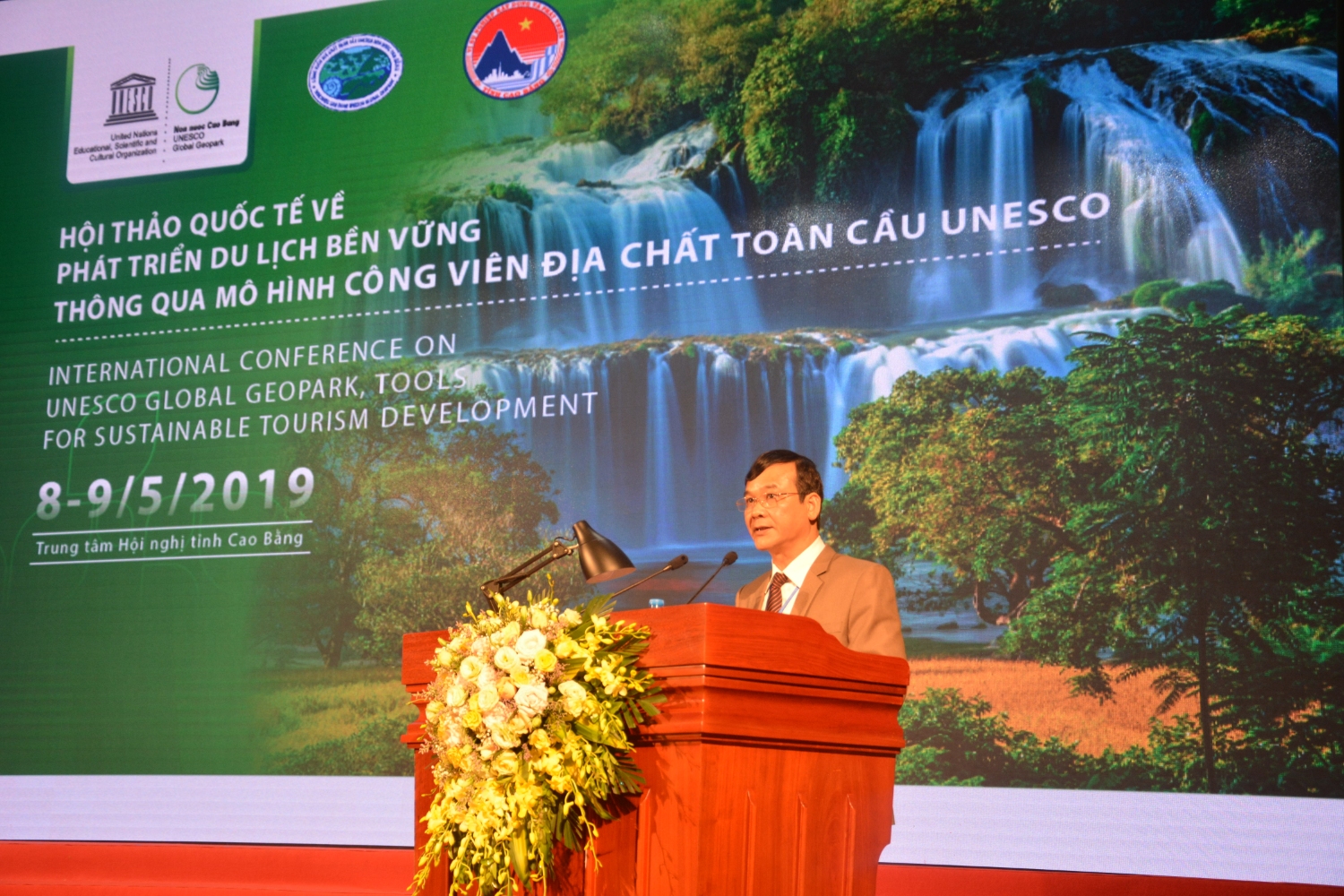 Participation in events of UGGp such as training, workshops, and thematic conferences, is one of the opportunities for Cao Bang to promote its images to the international communities. In 2019 Cao Bang province organized the International conference on "Sustainable tourism development through UGGp" with the participation of experts in the network, scientists from IUGS, Regional UNESCO offices, APGN, and UGGps around the world. Leaders of Central agencies, province scholars and scientists from national research institudes and universities, mass Medias also participated at this event. This thematic Conference combined with field visit into the Experience routes of Non nuoc Cao Bang geopark enabled Conference participants understand the outstanding significances of Non nuoc Cao Bang UGGp in particular and Cao Bang province in general.
Development of Non nuoc Cao Bang geopark following criteria of the UNESCO is not only important for the conservation and promotion of the UNESCO global geopark, but necessary for the promotion of Cao Bang tourism to the country and the world. The participation and organization of GGN will be channels for Cao Bang to promote its values and potentials to the world.