Field survey and compiling information for new heritage sites of the east experience route
Tuesday - 21/12/2021 18:22
From March 23th to March 25th, 2021, the Management board of Non nuoc Cao Bang UGGp organized a filed survey to collect documents supporting the compilation of information for the new heritage sites of the east route belonging to the districts of Quang Hoa and Trung Khanh. This is one among the urgent tasks related to the work of expert delegation coming to Vietnam for the revalidation of Non nuoc Cao Bang UGGp mission (scheduled in June, 2021).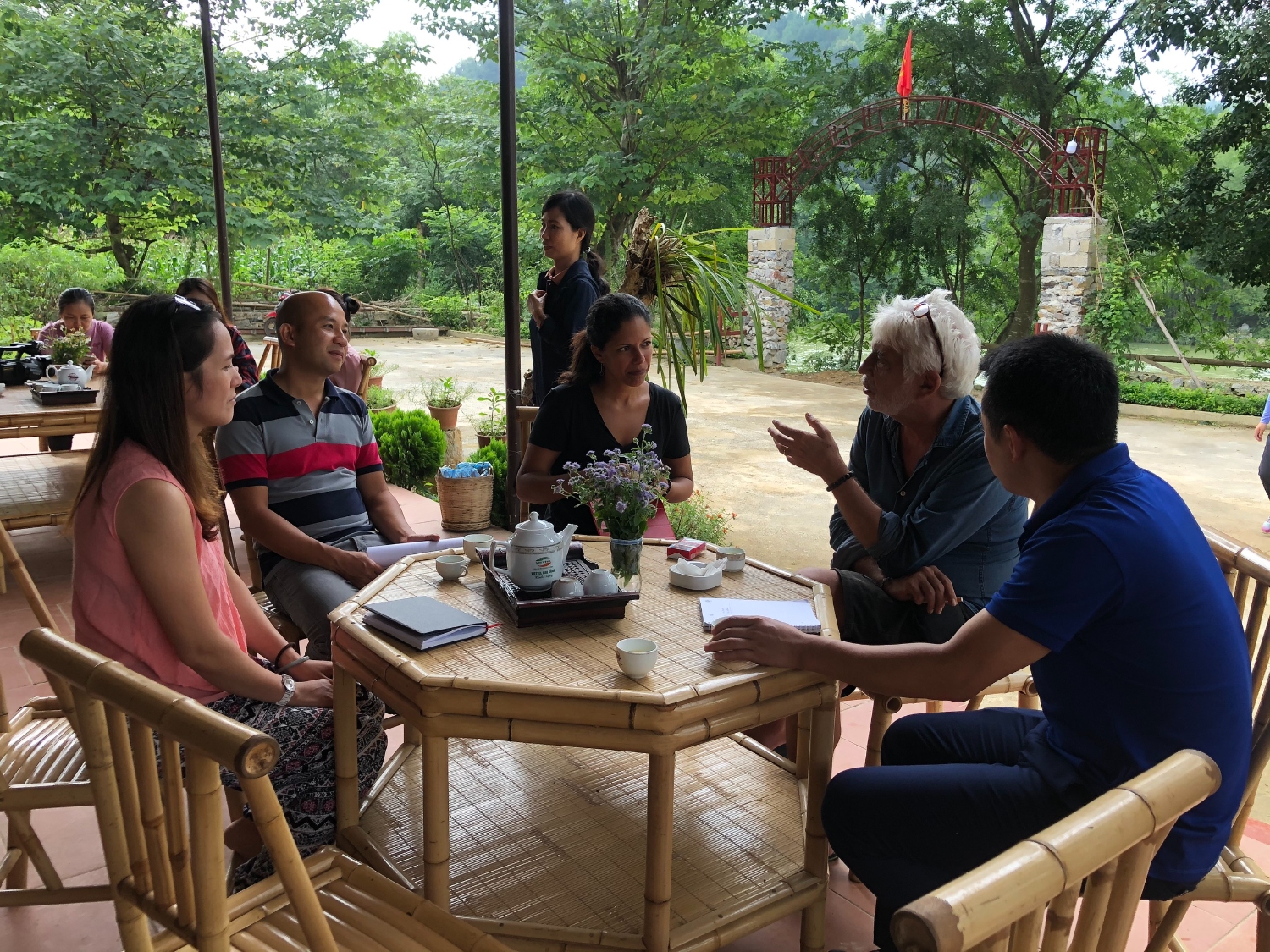 Previously, Mr. Guy Martini - Senior Advisor, Chairperson of the UNESCO Global Geopark Council and experts of the Institute of Geosciences and Mineral Resources had conducted a field survey to inspect and evaluate new heritage sites on the route from Quang Hoa district to Ban Gioc waterfall, Trung Khanh district. After the survey trip, five new interesting heritage sites were defined, including: Magic stone (Hong Quang commune, Quang Hoa district), Paper factory village (Quoc Dan commune, Quang Hoa), Chestnut garden and Little Ban Gioc (Chi Vien commune, Trung Khanh), Lan's homestay (Dam Thuy commune, Trung Khanh). These sites will increase the impression of the route "Experience traditional culture in a wonderland" on visitors.
The mission of the Management board of Non nuoc Cao Bang UGGp received collaboration and support of the people's Committee, the Division of Information and Communications of Trung Khanh and Quang Hoa districts, and the People's Committees of the following communes: Hong Quang, Phuc Sen, Chi Vien, and Dam Thuy when conducting the field survey and working with the elders in villages, who had profound knowledge of traditional culture, and artisans in the villages possessing heritage sites to collect data, images for the compilation of interpretive and promotional information for new heritage sites.
After the field survey, the mission came to a conclusion that these sites possess unique indigenous cultural values, interesting landscapes and exceptional geoheritage. Moreover, consulting with the locals indicated that they are eager to be engaged in the preservation and promotion of these heritage sites. Mr. Nong Van Phoong, an artisan of Dia Tren Paper factory village, Phuc Sen commune, Quang Hoa district said that: "I really hope that the village will attract more tourists; responsible authorities and departments facilitate the locals to sell more paper products as well as develop other services to increase income".