Pilloting the scheme on Onsite onsite waste separation and treatment scheme piloted at Khuoi Ky village, Dam Thuy commune
Friday - 13/01/2023 11:13
Onsite waste separation and treatment scheme aims to realize UNESCO strategy to address climate change adaptation, geohazards and wise use of natural resources…and initially deploy the Decision No. 623/QĐ-UBND dated May 25, 2022 of Cao Bang Provincial People's Committee on approving the waste separation and treatment project.
Khuoi Ky ancient stone village is well-known as a community-tourism based village. Parallel with the development of homestays, preservation and promotion of traditional culture for tourism development for the good of villagers, the village has been facing a increasingly obvious problem that is the accumulation of waste. Improper waste disposal will worsen the image of this ancient and affect people daily life.
In 2022, the Management Board of Non nuoc Cao Bang Geopark piloted onsite waste separation and treatment at Khuoi Ky stone village. At the first step, in order to communicate and raise people's awareness about the importance of waste separation, the responsibility of individuals, households, especially homestays, the Geopark Management Board held training courses on waste separation and treatment. The idea was enthusiastically responded to by villagers and business establishments at Khuoi Ky village. At the training course in October 2022, with the objective to carry out community-based waste management, the Geopark Management Board in collaboration with the People's Committee of Dam Thuy commune guided the establishment of a Coordination Board on tourism development whose roles are to ensure the obedience to village's regulations, community benefit-sharing, decide a group of households to take responsibility for waste collection and treatment at the village's waste gathering place.
In preparation of the implementation of the onsite waste treatment, in December, 2022, the Geopark Management Board contracted experts of DNA joint stock company which is a distributor of environmental treatment products, to guide khuoi Ky villagers the application of Probiotics in organic waste treatment. The Gopark Management Board also supplied Probiotics of DNA company to the Tourism Coordination Board of Khuoi Ky village for management and usage.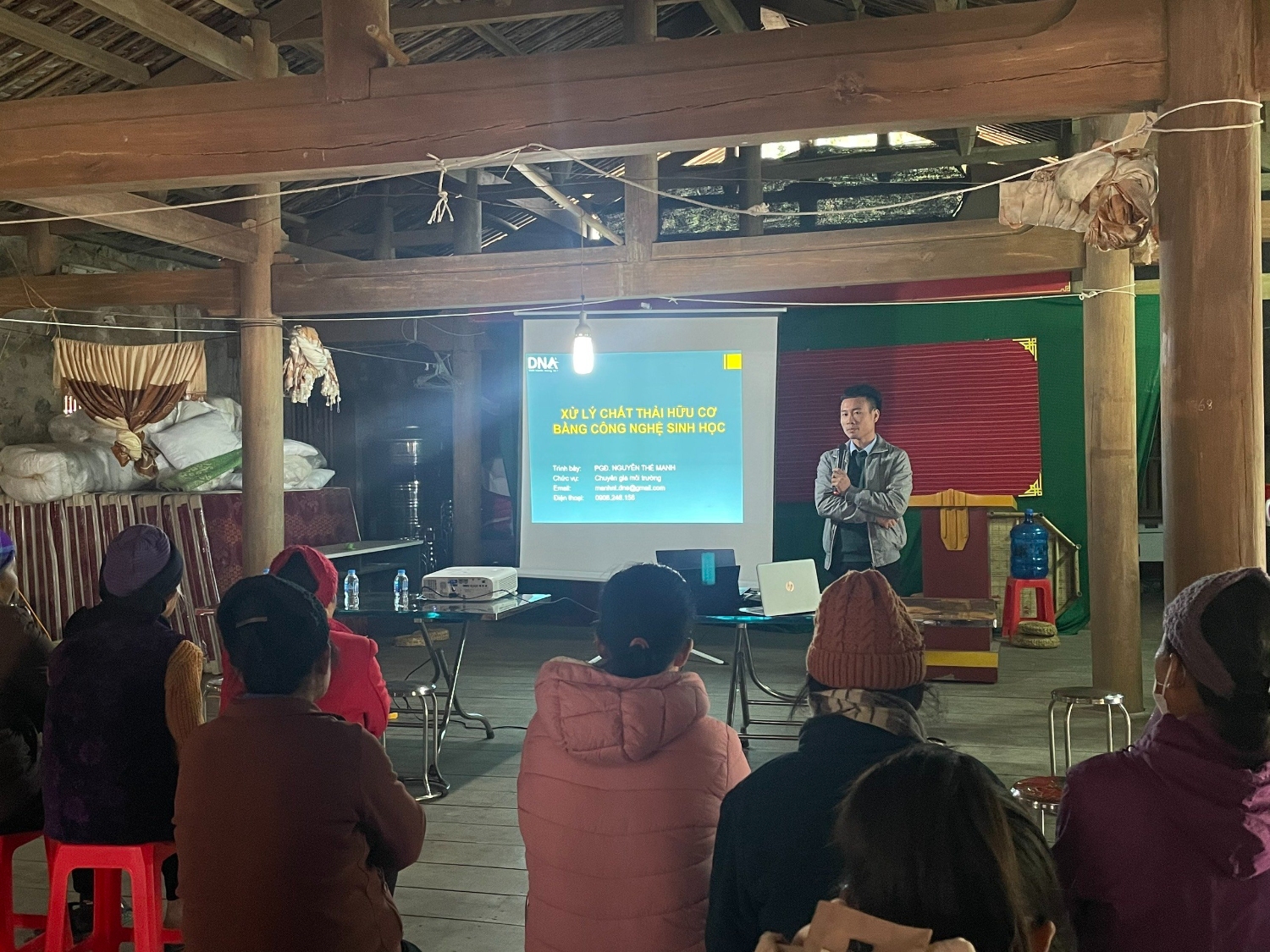 Currently, the Geopark Management Board is working on the organic composting tank at Khuoi Ky village and is going to provide the homestays and households with waste sorting bins, and place plastic and recyclable waste collecting bins at community places at the village.
Onsite waste separation and treatment at Khuoi Ky village is carried out as follows: domestic waste and food waste of households and homestays will be separated onsite to recycle, reuse and reduce waste treatment costs for the government and avoid the improper waste disposal for a better environment of the village.
The implementation of onsite waste separation is part of the participatory, equitable and inclusive tourism destination management, requiring the participation and response of the local community, authorities and relevant departments and branches. It also contributes to the implementation of sustainable development of Cao Bang in general and Non nuoc Cao Bang Geopark in particular.