SCHOOL CLUBS – THE PLATFORM FOR THE IMPROVEMENT OF DIFFERENT SKILLS FOR STUDENTS
Tuesday - 21/12/2021 18:35
The activities of school clubs or student associations in Cao Bang province are becoming more and more exciting, facilitating students to showcase their capacities in different aspects. This makes an important contribution to improving the quality of comprehensive education, and at the same time improves the practical quality of Youth union and children's movement.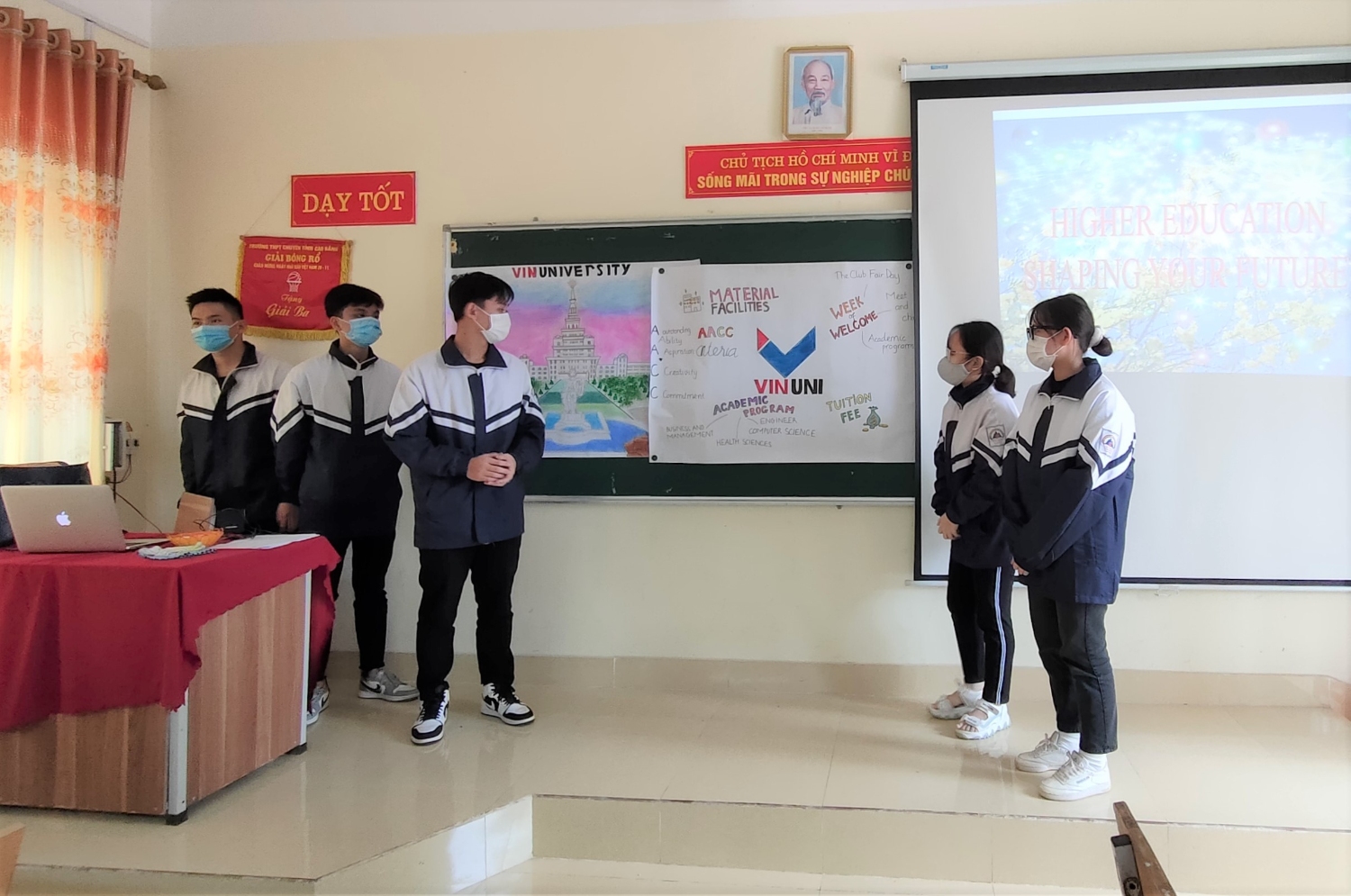 Cao Bang High School for the Gifted has many effective clubs. Currently, there are 5 clubs including Geopark ambassador club, Media club, Music club, Humans of Cao Bang High School for the Gifted, STEM club. With active and effective activities, these clubs are attracting many students' participation. Each club has 15-20 members.
Ms. Nguyen Thi Le Thu, Secretary of the Youth Union of Cao Bang High school for the Gifted said that school clubs, which are established on the basis of students' interests and aspirations, are among interesting experiential activities. Each club has a teacher in charge and form teachers encourage their students to get involved in the clubs' activities. Each club has its own program and different schedule depending on its features.
In addition to the objective of practising, improving each student's capacity, and talents, clubs also help students practice their soft skills, group working, and create solidarity. Club models are an effective communication channel for movements launched by all levels and sectors towards students; is "the extended arm" of the Youth Union and Young Pioneer Organization, the place to discover and nurture the best factors for the Youth Union and Young Pioneer Organization.
An outstanding model is "Geopark ambassador club". Joining the club, students will gain practical experiences as well as integrate, apply the knowledge about geopark to demonstrate and support the knowledge of the subjects on natural and social sciences they learn at school, and communicate the knowledge to other students. Club members will carry out communication activities such as designing school newsletters, wall-newspaper based on the information provided or from field experience learning trips, making video clips…for the purpose of geopark education at school.
Ngoc Minh Trang, a student of Class 12 Maths, a member of the "Geopark ambassador club" of Cao Bang High School for the Gifted shared that "Joining the club, I learned about Non nuoc Cao Bang Geopark. Thanks to the field experience learning trips, I know more about the homeland, famous landscapes such as: Phja Oac - Phja Den eco-tourism area, Thang Hen lake system, Ban Gioc waterfall... I wish the club will continue cooperating with the school and the Management Board of Non Nuoc Cao Bang UGGp to organize extracurricular activities and field experience learning trips for students have opportunities to directly learn and explore the monuments in the province.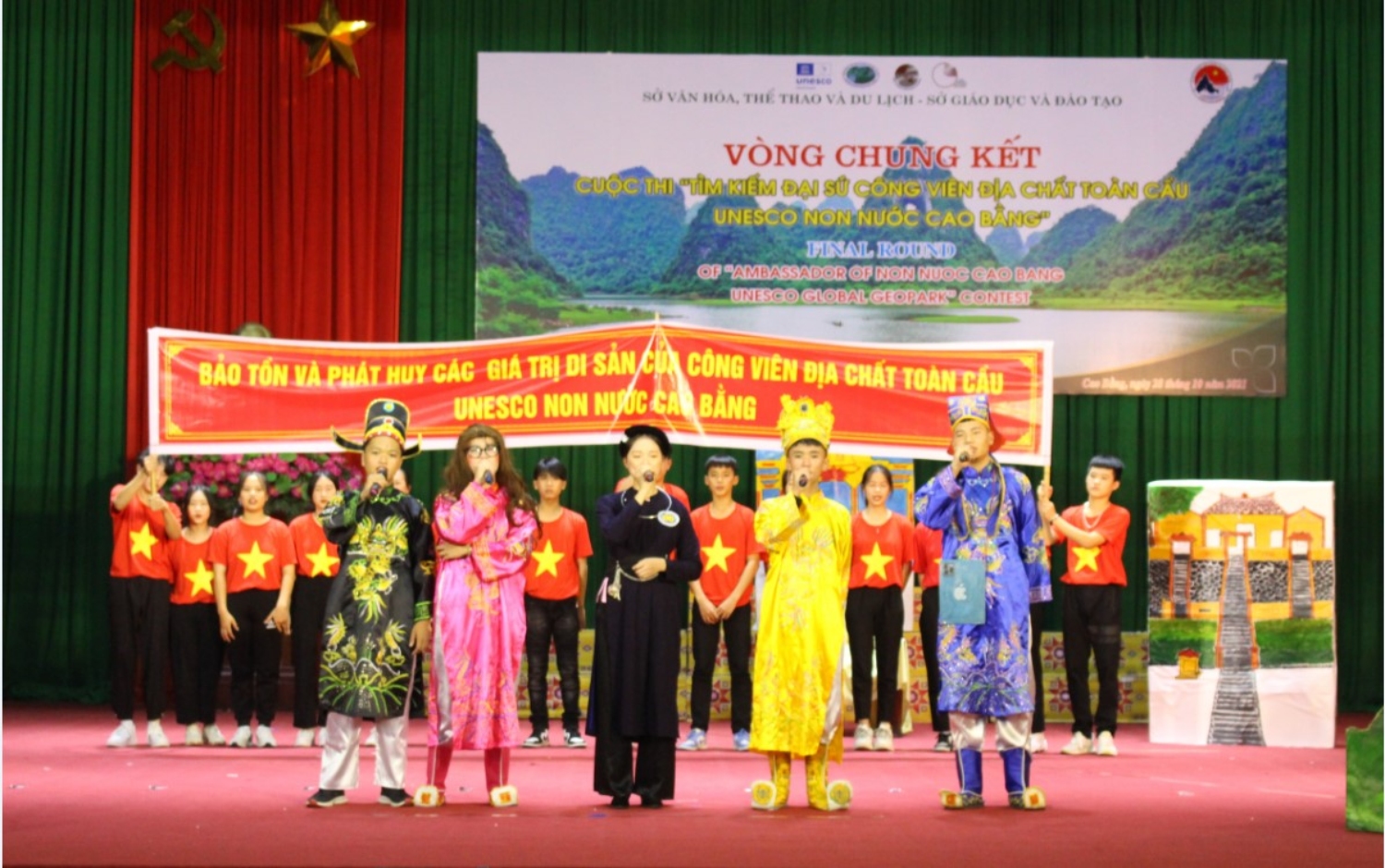 Sports Club of Tan An Primary School (Cao Bang city) was established in October 2020. Despite being established for a short time, this healthy and useful playground has attracted the attention of parents and students. Principal of Tan An Primary School Luc Thi Phuong Lan said: Every year, the school has a specific plan on developing the sports movement. The school cooperates with teachers and coaches of the Provincial Center for Training, Sports and Arts Competition to train students in martial arts, badminton, chess, and dance sports.
Each school level has its own features, there will be many clubs suitable for students' ages and needs; there are 1 - 5 clubs/school on average. Some clubs were established to training skills for students, improve their social and cultural knowledge such as: English Club, Maths Club, Literature Club, Communication Club, Geopark ambassador club... Besides, many schools have established hobby clubs such as art club, guitar club, sports club, etc. The clubs have been attracting a large number of students.
In addition to school managed learning clubs, there are many learning groups that are established in the form of hobby groups, where the members share their learning experiences, practising art, music and sports, contributing to the implementation of the "Friendly schools, active students" movement, developing necessary qualities and capacities to meet the requirements of the society.