WEARING LUCKY CHARMS FOR BABIES – A TRADITIONAL CUSTOM OF THE TAY AND NUNG
Wednesday - 03/02/2021 06:13
In Cao Bang, the Tay and Nung preserve traditional customs demonstrating spiritual and cultural meanings and wearing lucky charms is one among them. To date, this custom is still practiced for the purpose of praying good luck and peace for newborn babies.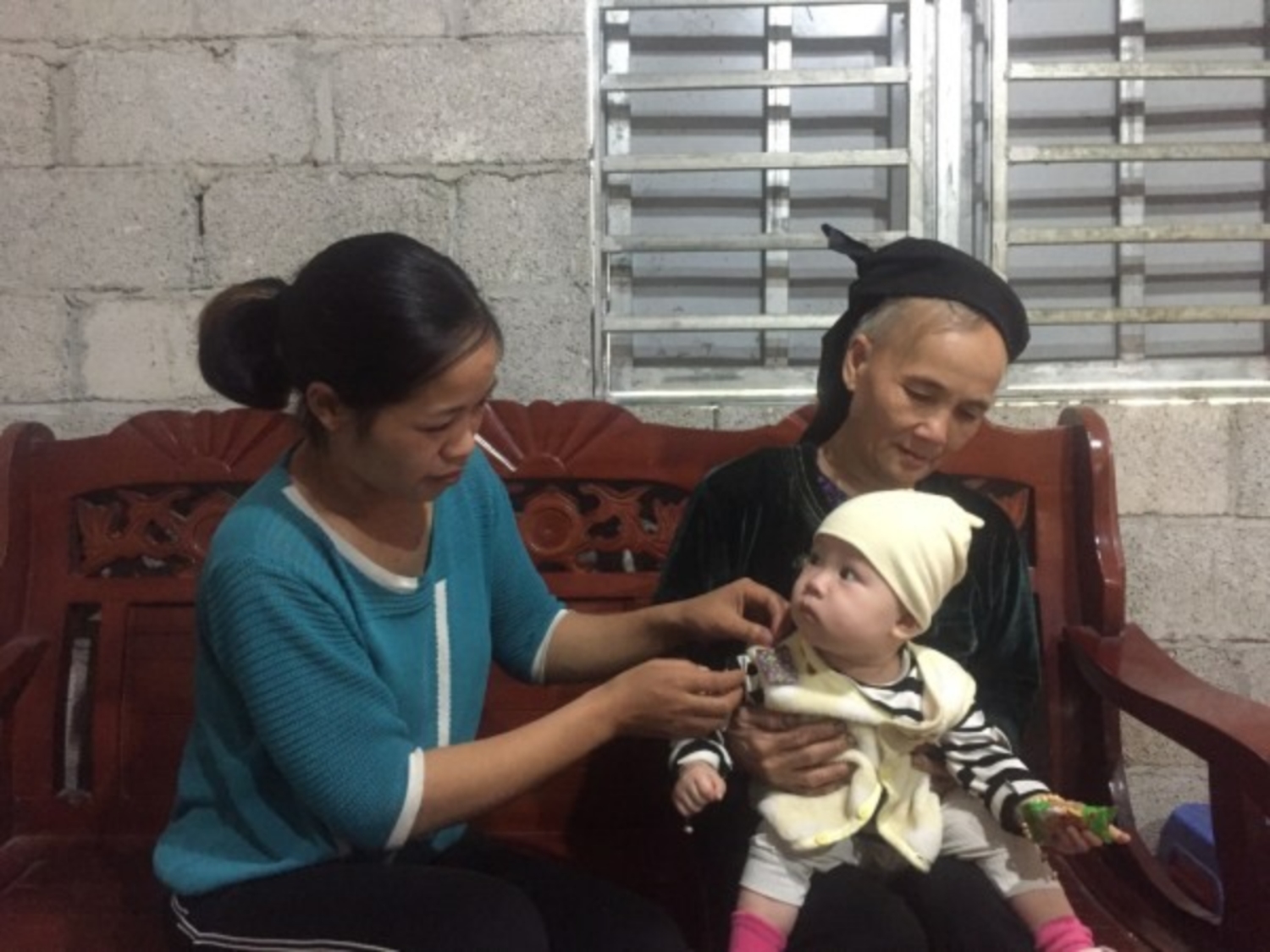 Non nuoc Cao Bang UGGp is a land of outstanding geological heritage and typical cultural, historical heritages. It is the homeland to ethnic groups who have been preserving valuable traditional customs and indigenous knowledge. The most populous ethnic groups in Cao Bang are Tay and Nung peoples.
In small villages of the Tay and Nung, it is familiar to see kids wearing lucky charm pouch necklaces. The idea of wearing lucky charms is not a superstition. They are just small amulet pouches to pray peace, good health, luck and happiness for babies when they are 1 month old.
Lucky charm pouches will be worn at the full month celebration of a baby. At the ceremony, the shaman writes amulet papers for the baby. Depending on different situations, the number of amulet papers is normally 1 or 2. After writing good wishes on the amulet paper, the shaman carries out the rite, fold the amulet paper carefully, put it in a plastic pouch to avoid water and then an indigo one before wearing for the baby.
The amulets, which are sewed skillfully by a baby's mother or grandmother from indigo cloth, are square or rectangle pouches with 2 openings to insert the drawstring. Indigo cloth, considered the breath of the mountain, is close and attached to the locals' life, the identity of indigenous people so that it is the priority material chosen to make pouches.
The cord of the pouch is twisted from multicolored threads. According to folk beliefs, men have 7 souls, women have 9 ones; therefore, the cord used for a boy is twisted from 7 threads, the one for a baby girl is plaited from 9 threads. Today, for convenience, people use a safety pin to attach the amulet pouch on the baby's hat or shirt.
Normally, the lucky charm will be accompanied with the baby until he or she is 5 or 6 years old or when the adults believe that the child no longer need it. It is not necessary for a child to wear the lucky charm all the time; it can be taken off when the child takes a bath. When the amulet paper is worn out, people can ask the Shaman to write another one. The amulet on the child makes him feel safe and secure.
Wearing the lucky charm is a cultural feature of the Tay and Nung which is still practiced in their spiritual life.